General Information
---
Location & General Description
Although a user of Colorado River water, the District is actually located within the valley of the Gila River, a now-normally dry tributary of the Colorado. The Wellton-Mohawk Valley begins eight miles east of the confluence of the two rivers, less than ten miles upstream of the northerly international boundary between the United States and Mexico. The District is a partner in the last large-scale United States diversion of water from the Colorado River, at Imperial Dam. The District's location, relative to state and international boundaries, means that we also share in numerous problems, both physical and political.
The two visible features which define the limits of the Wellton-Mohawk project are the Gila Canal on the west, and the dark symmetrical cone of Texas Hill on the east, 60 river miles upstream along the Gila River.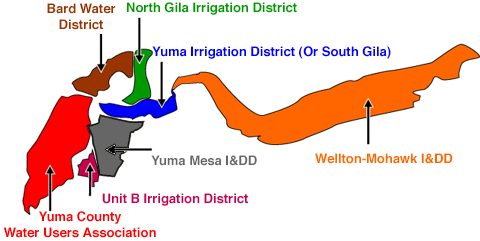 Political Status
The District was created by an act of the Arizona State Legislature on July 23, 1951. It was organized to provide a legal entity which could enter into a contract with the United States to repay the cost of this irrigation and power project, and to operate and maintain the project facilities. Congress authorized the irrigation features on July 23, 1947 as the Wellton-Mohawk Division of the Bureau of Reclamation's Gila Project. President Truman signed that legislation into law on July 30, 1947.
The District, as a political subdivision of the state of Arizona, is similar to a city or county. It has a corporate boundary (a "city limit") and its qualified electorate, owners of irrigable land within its municipal corporate boundary, vote for a nine-person governing body, or Board of Directors. In addition to its political corporate status as an irrigation district, Wellton-Mohawk also holds the franchise for power distribution in the local area. The boundary of the power franchise area does not coincide with the District's irrigation boundary. The two functions are distinct, and subtly different in their political basis.
As a municipal corporation, the District has the dual advantage of being a single operator with jurisdiction over the entire project, and having authority to levy taxes for the purposes of operation and maintenance, and for repayment of project construction costs (now completely retired).