Community
---
Television Translator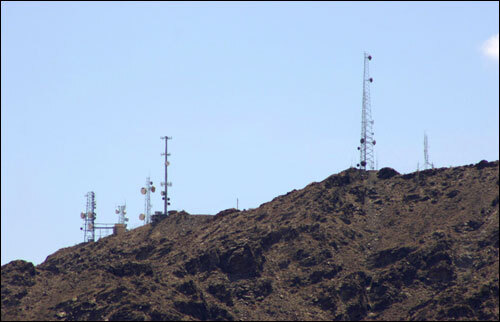 Telegraph Pass Communications Site in the Gila Mountains
Because of the mountain ranges surrounding the area, VHF television reception in the District has never been exceptionally good. The District Board of Directors on April 6, 1976 ordered an investigation and a cost estimate be made to determine the feasibility of a television translator. A letter requesting input was mailed with power bills to determine interest in a District-operated system. There were 175 affirmative and no negative responses. The Board moved to authorize construction.
The District made application to the Federal Communications Commission for a license to operate a translator system, and to the Bureau of Land Management for license to build a transmitter on the Gila Mountains adjacent to Telegraph Pass, the site of numerous other electronic installations.
The translator receives television signals from an existing VHF station, changes or "translates" the signals to an unused UHF channel (in the District's case, channels 61, 63, 65, 67 and 69), amplifies and then rebroadcasts the signals to viewers in the general vicinity of the translator. The system went into operation in 1978.
Currently channel 8 originating in Phoenix, channel 19 originating in Prescott, and Yuma channels 9, 11 and 13 are offered to local viewers.